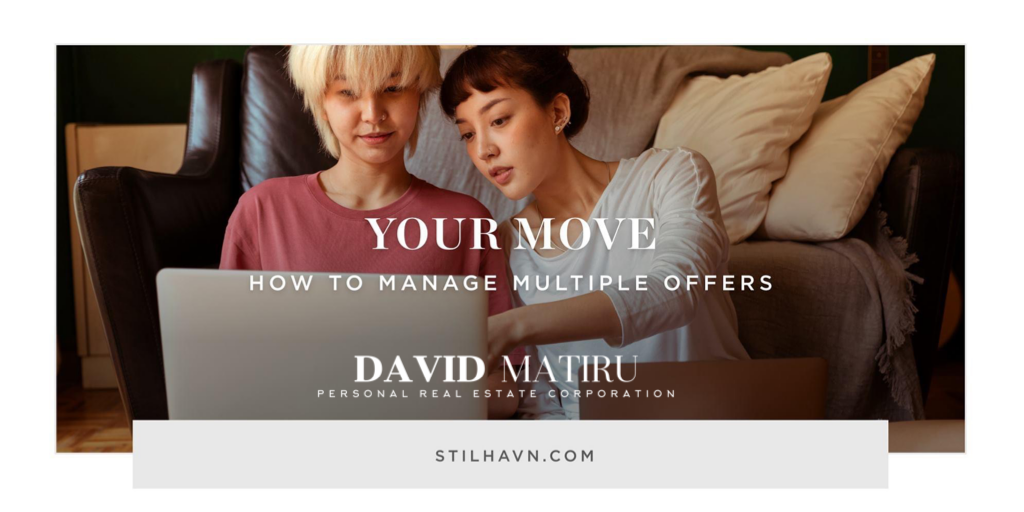 Oh boy, in my 12 years in the business I've never seen it so frenzied. 2016 came close but 2021 is another beast.
This year, Metro Vancouver's housing market continues to outpace expectations—just last month, 
total transactions were 67% higher
 than they were at the same time in 2020. 
With the current sales-to-active-listings ratio above 20% per 
the latest market update
, the local housing market remains firmly in favour of sellers. In a seller's market like ours, receiving multiple offers on a home is far from unusual. 
If you're getting ready to sell, talk to your REALTOR about the likelihood of receiving multiple offers and how you plan to handle and prioritize them. Remember, price isn't the only factor you should consider.  
Tips for Fielding Multiple Offers
Let's start with the basics: what makes one offer more compelling than another?
What's most compelling will vary depending on your priorities, of course, but don't overlook a good-faith deposit. If all offers are relatively equal in price, the
buyer
who can offer a sizable upfront deposit should be one of your top contenders. 
A good-sized deposit makes sense for both
buyers
and
sellers
: it allows the buyer to make smaller monthly payments and allows the seller to feel a little more comfortable prioritizing a serious buyer.  
What if none of your offers is a clear winner? Is it ever a good idea to shop your best offer around and see if any other prospective buyers can beat it?
It's always a good idea to gauge multiple offers before settling on the first one that matches your terms. The first significant offer can be tempting, especially if you're hoping to move quickly. Buyers who can offer other concessions, like waving inspection fees or some flexibility on a closing date, might be able to offer something of equal value to you.  
Communication during this process will be key, though, and having an
experienced negotiator
on your side can make a big difference.  
Do you let interested buyers know that there are multiple offers? What are the pros and cons of doing this?
When you have multiple offers, you're in a very strong position to negotiate. Letting buyers know that you're dealing with several interested parties gives you a bit more leverage to negotiate the best possible price. 
This strategy isn't foolproof, though, and could make some buyers walk away. There's a risk of discouraging buyers when a bidding war becomes aggressive, especially if it leaves the people feeling uncertain about where they stand in the offer pool. 
A safe move is to counter the best offer according to the terms you want while keeping a few interested parties waiting in the wings.  
If there's one clear best offer, should you accept it right away, or is it worth trying to counter?
After price, the second most crucial factor for many sellers is time. When time is of the essence, it can be worth simply going for the best offer that works for you. 
Going with the first best offer may seem like an obvious choice, but it's important to consider the many contingencies that can come with the bid, like the home inspection cost, buyer's financing, or appraisal. 
For over a decade, I have delivered a fresh perspective on sales and customer service to each and every one of my real estate clients, with a commitment to exceeding their expectations. My clients are my future neighbours, and great business relationships often give way to new friendships. I work for my clients with their best interests at heart, meeting their needs through my experience, negotiation skills, and keeping the smallest of details in check.