The city of Vancouver has just completed a three-year-long consultation process on the future of its aquatic facilities and beaches. The consultation ended with the approval of a whopping $350M budget to implement Vancouver's Aquatics Strategy – a plan that aims to modernize Vancouver's nine indoor pools, five outdoor pools and 18 kilometres of beaches over the next 25 years.
Though further approvals are required to fulfill all aspects of the strategy, this milestone approval will allow the Park Board to begin the planning and funding needed to get the ball rolling. What can eager Vancouverites expect from this new development?

Replacements and Expansions for East and West Side Pools
Very soon, planning will begin on replacement pools for Kerrisdale and Britannia community centres, with completion expected in 2026 at a total cost of around $45M.
The new plan also involves the replacement of the
Vancouver Aquatic Centre
at Sunset Beach and a new facility in Connaught Park in Kitsilano. You may remember the Park Board had planned for these new facilities to act as replacements for ones at Lord Byng and Templeton. Instead, in the wake of rumblings from the public, the Board has decided to keep both existing pools open for a minimum of 10 years after the opening of the new Connaught Park and Britannia pools.

Outdoor Pools Coming to South Van
South Vancouver residents have something to look forward to as well, with a new full-sized outdoor pool planned next to the Marpole Community Centre. A second,
naturally-filtered pool
is planned for South Vancouver, where thousands of plants will be used to ensure safe water quality. 
A Floating Pool for False Creek?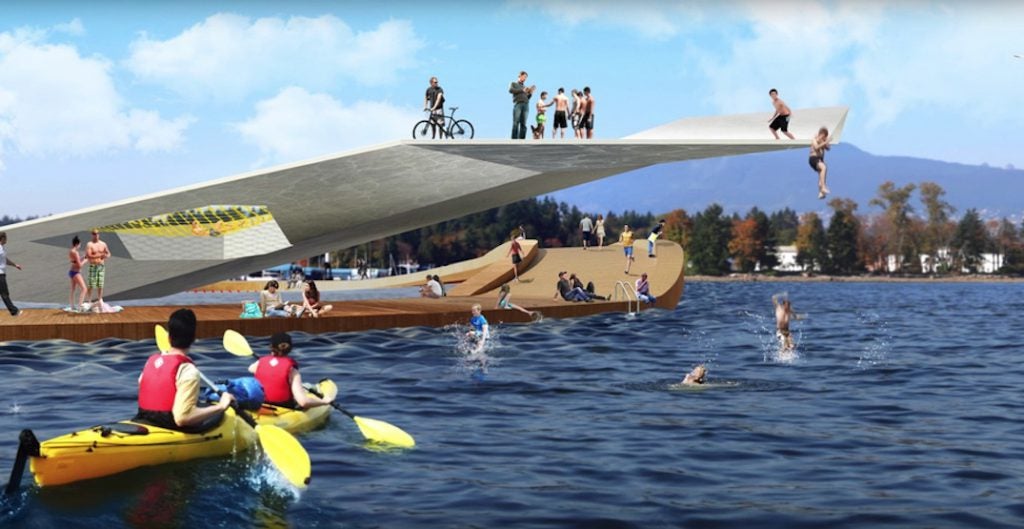 2016 concept of a harbour deck platform at Harbour Green Park at Coal Harbour in downtown Vancouver. (HCMA Architecture + Design, via
DailyHive
)
Additionally, the Park Board is also exploring a possible
swimception
with the launch of a floating pool in False Creek. With any luck, downtown residents may one day swim in a pool afloat False Creek.
In addition to the new facilities coming soon, significant upgrades are planned for various other pools, spray parks and beaches across Vancouver.